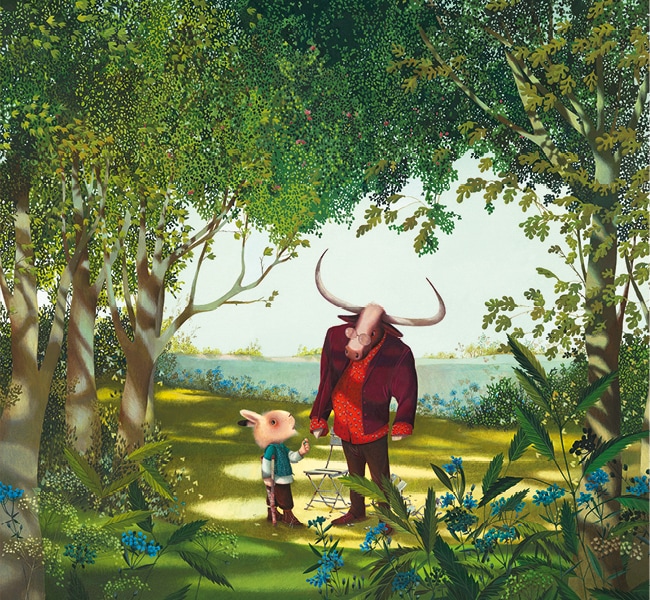 A wonderful thing
an exhibition by Rébecca Dautremer
Exhibition place:
38 rue de Malte (Paris 11)
opening on Wednesday 22 November from 6 p.m.
open every day from November 23 to December 6 from 11 a.m. to 7 p.m.
Author and illustrator, Rébecca Dautremer has been delighting a wide audience for more than 20 years, constantly charmed by her new works. In 2018, she imagined a hero with big ears, who has now become an icon of children's illustration: the little rabbit Jacominus Gainsborough! After his Rich Hours, an album that covered her life from start to finish, Rebecca offered, over the publications (éditions Sarbacane), to dive into different significant moments of her life.
In Midi Pile, he gives his lover one last date before boarding a military boat. In Une toute petite seconde, the terrible moment of a fall is suspended and widens over the tumult of the surrounding city, allowing us to discover a little better the characters who make up the universe of Jacominus. And it is in music that Rébecca Dautremer tells us today A wonderful thing… A thing that the hero cannot remember! The opportunity to mix in his images memories that seem real, and others that are a little more vague.
Discover exclusively in this exhibition all the original illustrations produced by the artist for the book, as well as a selection of preparatory sketches. The opportunity also to introduce you to the interactive "machines" housing the originals of the previous opus, which we have presented with Rébecca in numerous exhibitions throughout France over the past two years, and which will be exhibited for the first time in Paris!
Meet on Sunday, November 26 from 3 p.m. for a guided tour in the presence of the artist, followed by a signing session.
FREE BUT MANDATORY REGISTRATION HERE (LIMITED PLACES)

Sales will open on November 22 at 6 p.m., on site or by telephone, then online from November 23.