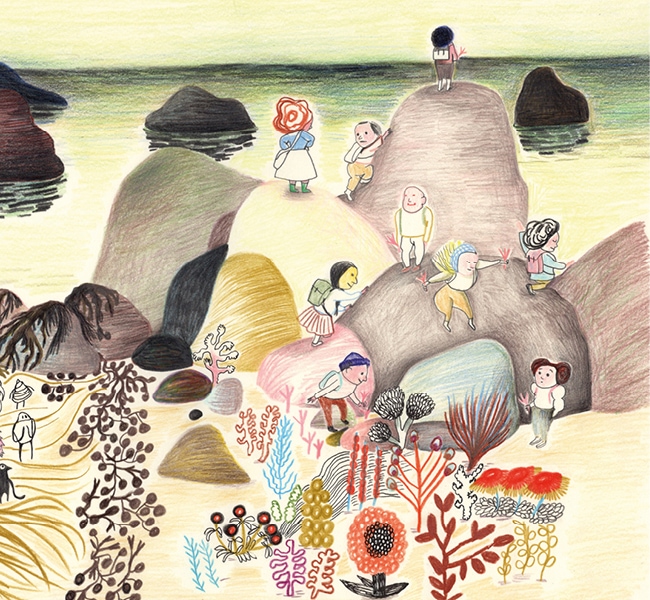 ARCHIVES
Once upon a time… Kitty Crowther
an exhibition by Kitty Crowther
Exhibition place:
38 rue de Malte (Paris 11)
opening Thursday, June 22 from 6 p.m.
open every day from June 23 to July 5, from 11 a.m. to 7 p.m.
Kitty Crowther is an amazing album maker. Since the mid-1990s, through her texts and images, she has shaped a world apart, all in delicacy. His stories intertwine the real and the fabulous, the human and nature, humor and poetry… We come across frogs worried about the little noises of the night, young girls who are not afraid of death, others learning to gain their independence, mischievous insects and so many wonderful creatures.
Over the course of her albums, she has forged a very identifiable style, most often with pencils, mixing deep blacks and colorful explosions of which she has the secret. We perceive the echo of these artists who, from Beatrix Potter to Tove Jansson, from Arnold Lobel to Hayao Miyazaki, were able to influence him. Quickly recognized in Belgium and France, his work, mainly published by Pastel editions, is now translated in many countries. She was crowned in 2010 with the Astrid Lindgren Prize, the supreme international award for authors of children's and young people's literature.
Kitty Crowther regularly exhibits her drawings in institutions around the world. For the first time, she is offering a selection for sale in the gallery. The exhibition presents a set of 80 original drawings, mainly from his albums (including Little Night Stories, I Want a Dog, We the Children of the Archipelago, Mother Medusa, Farwest, Poka and Mine, The Root Child , Annie du lac, Lutin Veille…) as well as a selection of projects carried out for the press.
Kitty Crowther will be present on the evening of the opening, Thursday June 22 from 6 p.m., and will offer a guided tour of the exhibition followed by a time for discussion and dedication on Saturday June 24 at 3 p.m.