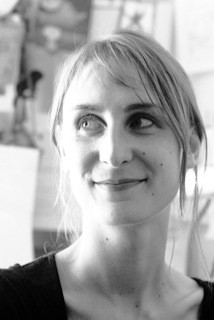 Marjorie Pourchet
Marjorie Pourchet was born in 1979 in Besançon. She followed a course in Applied Arts in high school where she discovered illustration. She continued her studies at the School of Decorative Arts in Strasbourg and joined the workshop led by Claude Lapointe.
After graduation in 2002, she participated in the exhibition Figures Futures in Montreuil Book Fair on the theme of Dom Juan, published her first album Heads in the bag, which will be part of the 23rd Mostra of illustration of Sarmede , returned to her hometown, and made a small detour in residence at Troyes, where she completed a second album.
Old illustrated books, retro wallpapers, scratches of lace; her work in acrylic is sometimes diluted or full of matter mixed with inks, punctuated by collages, line drawings, printings … and sometimes hidden details that drive the observer's exploration.